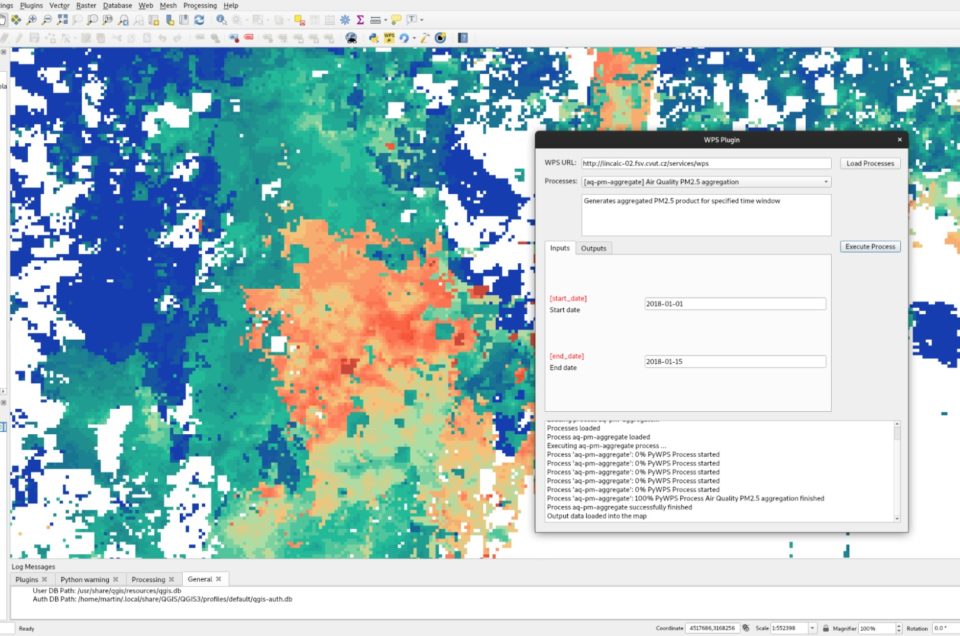 Prepared by: mundialis and CTU in Prague
---
Executive summary
Two experimental geoprocessing services were established by the Geo-harmonizer project. The first is based on OGC Web Processing Service (WPS) specification. The second service is performed by Actinia REST API. The services currently include a demo process which allows computing aggregated PM2.5 maps for a time period specified by the user. Detailed information can be retrieved from the public Gitlab repository. 
The OGC WPS service can be easily accessed by the WPS plugin (co-developed by CTU in Prague and OpenGeoLabs in the frame of Geo-harmonizer project) from QGIS user interface.
One special issue addressed in the project context relates to large amounts of data, exacerbated by time series. Since actinia is based on GRASS GIS, data is generated in its own format, which hitherto was not web-enabled. Commonly, this required GRASS GIS data to be exported to Cloud Optimized GeoTIFF (COG) so that GeoServer could deliver it as OGC Services, resulting in the duplication of data needing corresponding disk storage space.
To circumvent this issue, an extension was programmed in GeoServer enabling this software to directly read GRASS GIS raster data from the GRASS GIS database/actinia, eliminating the need for duplication. The extension supports time series as well. Datasets generated via actinia in GRASS GIS are automatically registered within Geoserver. Hence, geodata can now be published in combination with style information in GeoServer to deliver OGC compliant Services.
The geoprocessing services including GeoServer extension will be publicly demonstrated on training session Accessing Geo-harmonizer processing services in QGIS organized by Geo-harmonizer project team in September 2021.